Pastoral is the world's first precision livestock farming (PLF) tool built specifically for the needs of livestock farmers in low-and-middle-income (LMIC) countries.
Pastoral modifies the fundamental features in common digital PLF platforms in wealthier countries (IoT animal tracking, virtual fencing, water availability, animal health, etc.) to fit within the price point and technical limitations of livestock farmers in lower-income countries, balancing affordability with long-term sustainability, putting people over profit.
Incubated by Karakoram Innovation from 2020 - 2021 with catalytic pre-seed funding from the United Nations Development Program (UNDP) Cultiv@te Programme for Innovation in Sustainable Agriculture, Pastoral is the world's first inclusive precision livestock farming platform that combines land-based Internet of Things (IoT) 2G / LoRA based sensors and open-source satellite data with a Telegram chatbot based interface, resulting in a tool for LMIC farmers in low-connectivity and low-tech environments. Pastoral has undergone field trials and field-based design sprints in Ahangaran District, Uzbekistan, in close collaboration with the UNDP, the UN Food and Agriculture Organization (FAO), and the Uzbekistan government. When prototyped, this concept received exceptional feedback from our early test farmers, indicating a high willingness to pay and an outstanding NPS score of 65.
Precision livestock farming platforms like Pastoral increase livestock farmer profit, offer more sustainable herding patterns, decrease agricultural-based violence, and reduce land degradation in countries most impacted by climate change and competition from the global market.
What is the core problem we want to solve?
Many smallholder farmers in global LMIC countries do not have consistent and secure access to pasture land, resulting in the unsystematic and illegal use of pastures, made worse by a changing climate and competition from the global market. PLF tools designed for wealthier countries (including Europe, N. America, Israel, New Zealand, and Australia) offer farmers in these locations information about their current land and animal health using satellite and ground-based sensors. In addition to raising healthier animals and more valuable animal products, PLF data is used for more sustainable farming practices and more access to overall food access and availability.
A secondary impact of PLF platforms in LMICs are used to monitor and reduce herder/farmer conflicts in many global LMICs, particularly across the Sahel region of Africa. For example, the conflicts between the Fulani nomadic pastoralists and Hausa farmers in Nigeria arise from incompatible modes of production and changing pressures from globalisation and global warming. This conflict has been flagged as a priority by the World Bank, ECOWAS, the African Union, and the UNDP, limiting the regions peace, development, and security. The misuse of grazing lands, coupled with conflicting modes of production and violence between herders and farmers, is as much a food availability and accessibility crisis as a humanitarian and socio-economic one and could be addressed with basic and suitable PLF tools such as Pastoral.
We believe that Pastoral represents a potential innovative step towards a new PLF solution for farmers in LMICs that respects the needs of herders and farmers, works with restricted or disrupted telecommunication networks and is affordable in less wealthy countries.
How does our solution solve this core problem?
Based on research gathered throughout our Design Sprints in Uzbekistan over the summer of 2021, a joint team of crore stakeholders (comprised of experts from the UNDP and FAO Country Office in Tashkent, the Uzbekistan Government, and Karakoram) agree that it is possible to build a self-sustaining and affordable precision livestock farming platform which would address the specific requirements and needs of livestock farmers in Uzbekistan and beyond to lower-income countries.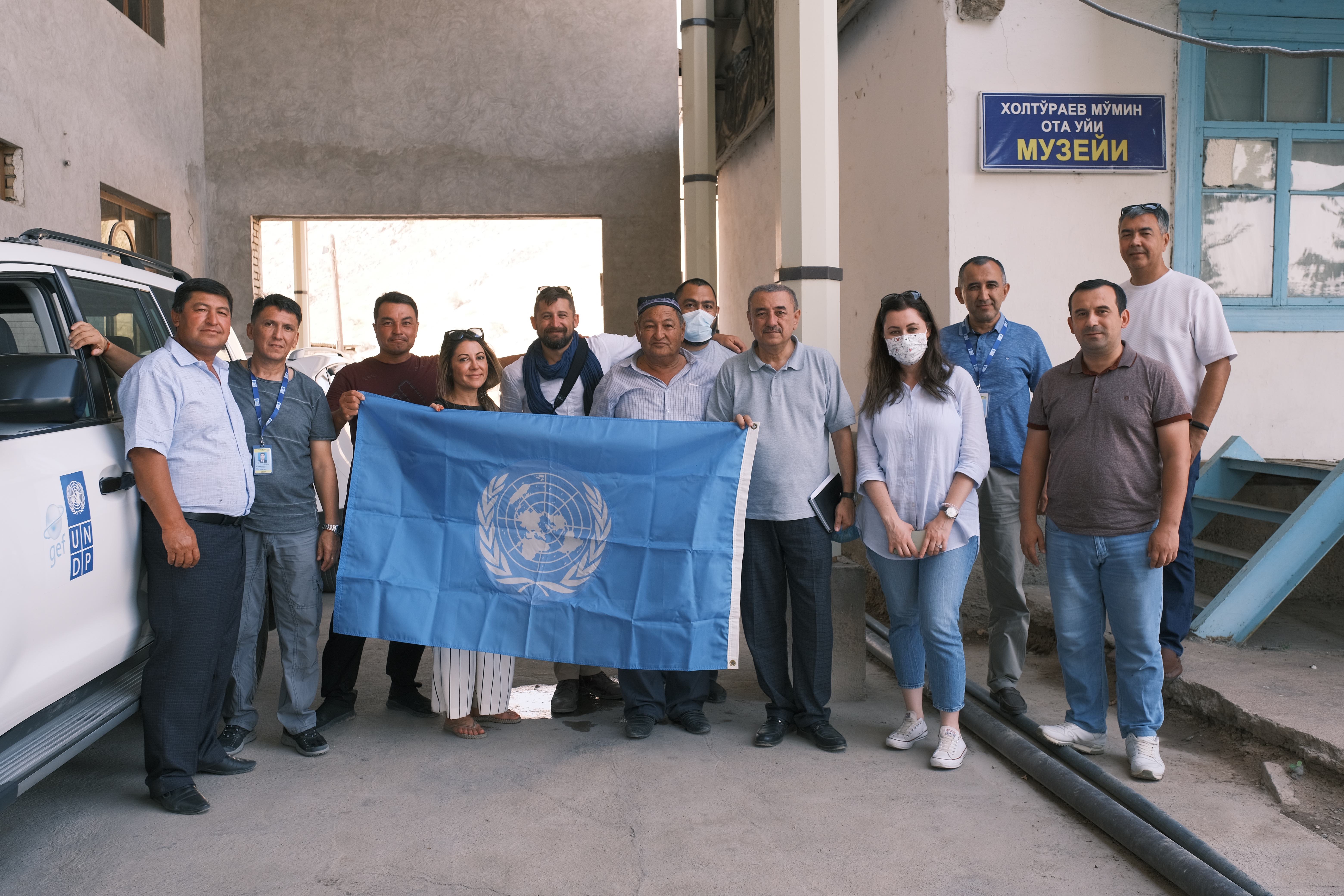 Based on the synthesised findings of the field-based Design Sprints, user research, and input from internal and external project specialists, Karakoram is focused on designing Pastoral as a low-cost, low-connectivity, chatbot-based PLF platform for LMICs.
Many PLF tools commonly used in wealthier countries rely too heavily on prohibitively expensive data sets, complex ground-based sensors, stable cellular IoT networks, and graphics-heavy user interfaces. Karakoram will cut the cost and increase the availability and suitability of our PLF platform by using a combination of open-source satellite data made available by Google Earth Engine and ground-based data from specialist low-connectivity IoT devices designed by Karakoram. The Design Sprint tested both Long Distance Radio (LoRA) and 2G GPRS animal sensors, with a plan to experiment with additional sensors and IoT methods in upcoming development cycles.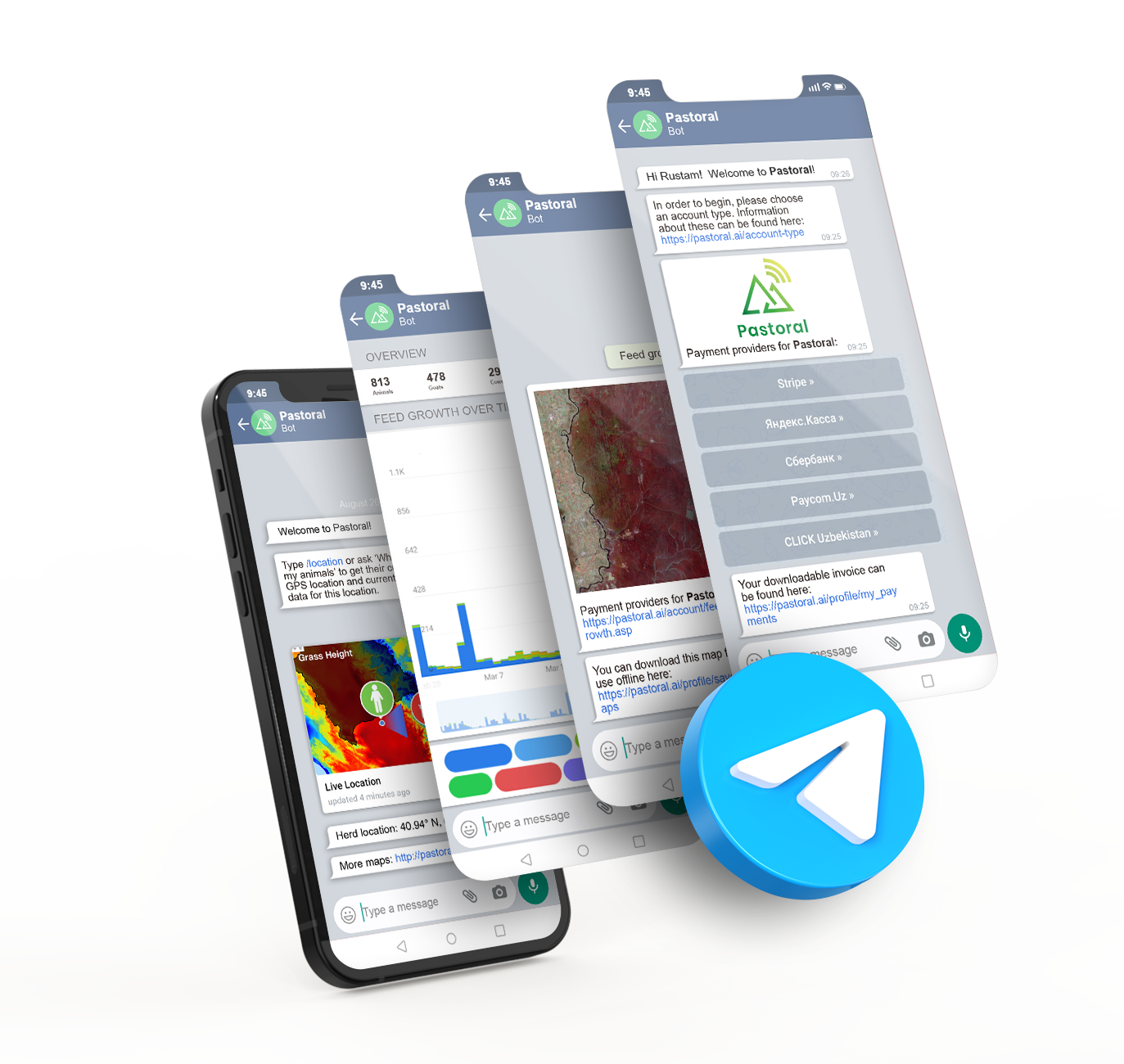 Using the unstructured data to make inferences into what changes to current land, animal, and farmer behaviours would be specific improvements to the profitability and sustainability of farms and animals is a primary focus area of focus in the following 12-month phase of the Pastoral platform development.
The end-user farmer in Uzbekistan and other LMICs can access and use this data using a UI that our research has demonstrated is comfortable to most interviewed farmers and compatible with their technical tools and level of connectivity; a chatbot. Comfort and experience using the chat service 'Telegram' was a critical insight derived from the summer Design Sprints. When prototyped during these Sprints, Farmers interviewed agreed that having a chat-based service that delivers essential information about their land and animals would be both useful, as well as something they would be willing to pay for, to both sustain the Pastoral platform and result in increased value in their animal products.
Consequently, Pastoral's current product direction is to continue the development of the worlds first precision livestock chatbot for developing nations that offers both satellite and IoT ground sensor data to drive more sustainable behaviour.
Karakoram follows The International Development Innovation Alliance (IDIA) Architecture for Scaling Innovation process and definition, mapping their six scaling stages to our project. We have completed Phases 1-3 in the Scaling Innovation architecture (Ideation, R&D, and Proof of Concept).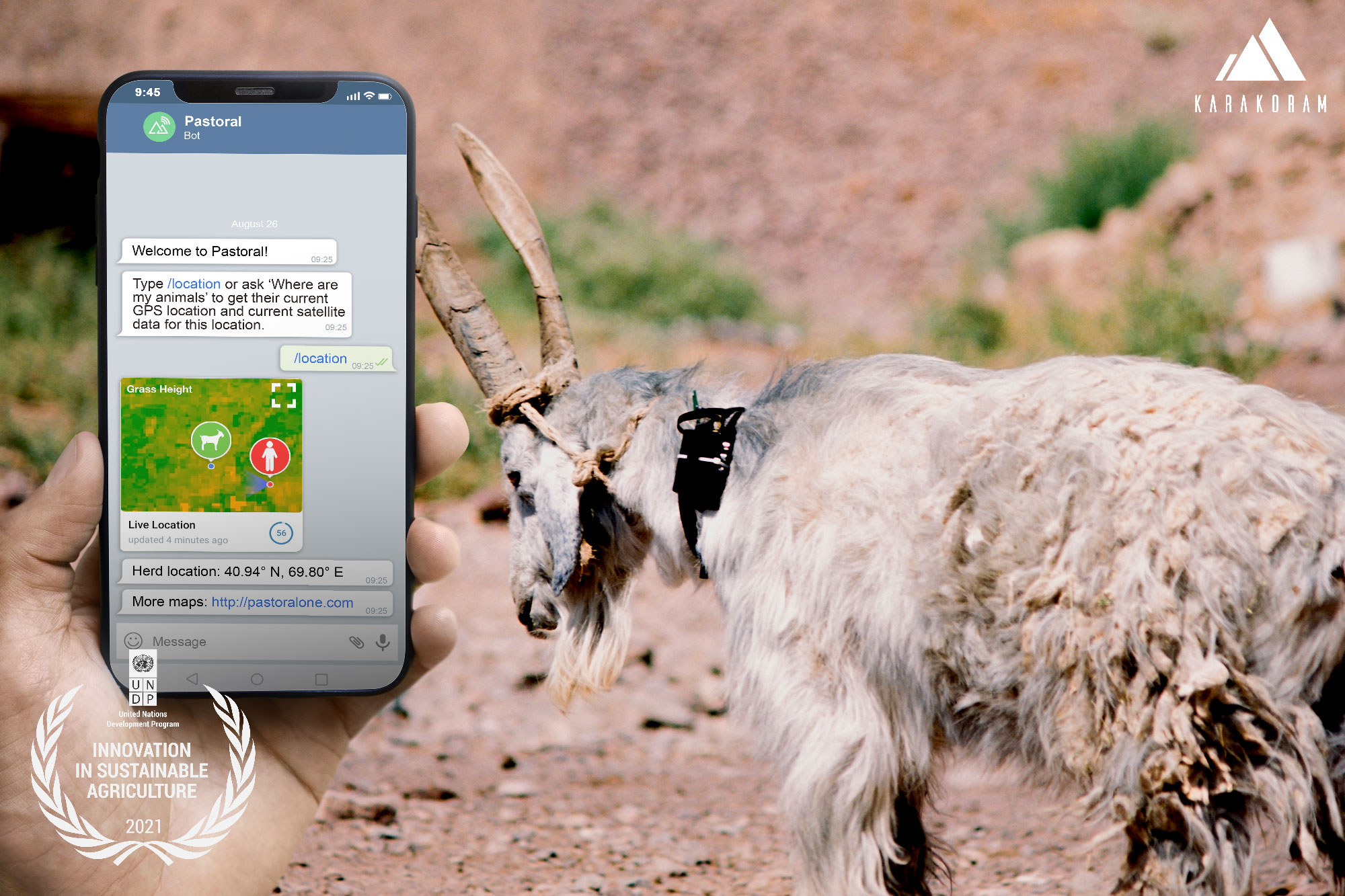 Description of the value that we deliver to the users of our technology:
This PLF platform addresses the challenge that exploding populations, changes to the environment, globalisation, and changing modes of production have eroded the traditional methods used for livestock herd rotation. The PLF tools used to mitigate these in wealthier countries are currently unaffordable and unfit for farmers in lower-income countries with less established network connectivity. Pastoral aims to use the basic fundamental features in western PLF platforms (animal tracking, virtual fencing, water availability) and modify them to fit within the price point and technical limitations of livestock farmers in low-and-middle-income countries.
Farmers who use PLF tools can mitigate many negative impacts of climate change, offering them the tools to pivot their behaviour quickly based on up-to-date land and animal information, rather than traditional methods that are often out-of-date. Today, there is no cultural vocabulary for navigating these changes, leading to illegal land use, banditry, and increased agricultural violence as livestock farmers fight over decreasing agricultural resources. Existing research indicates that a PLF tool for LMICs such as Pastoral will lead to more profit for livestock farmers in LMICs, more sustainable herding patterns, less agricultural-based violence and reduced land degradation.